Ask the Advocates: Staying Positive During Treatment and Recurrence
Last updated: October 2018
We asked our advocates for their perspectives on the different emotions that come at each step of the skin cancer journey. In part one, we talked about diagnosis and treatment. In part two, we learn about coping with recurrence and change and how this affects one's mental health in part three. Finally, the advocates shared how they stay positive throughout treatment and day to day when recurrence can be on one's mind.
Has skin cancer changed your outlook on life? If so, how?
Scott: I try to live life to its fullest. I try to accomplish those things on my bucket list. I try to give back and make the most of the days that I have left. My outlook has changed because I no longer am so concerned with my looks or what others think about me. Staying out of the sun helps me focus on other things that I consider more worthy of my time. I am now more courageous and willing to help others because my outlook has become more other-centered.
April: Skin cancer has helped me see what is truly important and how much time we can waste on vanity. My tanning days got me here. My dermatologist reminds me regularly that I have tons of "sun damage." Tanning was a vanity thing---needless and dangerous. I'm past that. Having my children see me value my life over frivolous things like tan skin is so much more important to me.
Judy: Skin cancer hasn't really changed my outlook on life. I'm still the same person I was before I had skin cancer, albeit more sun smart.
Renee: Having skin cancer has not changed my outlook on life. While I don't like hearing that "it's only a basal cell carcinoma," and I do feel that I've had cancer, I don't feel like it has changed how I look at life the way having had other forms of cancer have impacted my friends' outlook.
T.J.: Completely. I woke up in the hospital during my first stay and remember saying that I was going to make a difference in the lives of others when all this was done. Through writing and speaking and connecting with other patients, I am fortunate that I can do just that. Skin cancer has given me a lot of things – some good, some bad – but most of all it has given me a truly identifiable purpose in life.
Many, many others are going to walk the road of cancer, and particularly skin cancer, in the coming years. I have been fortunate enough to beat the odds (for now), and have that chance to affect others who will one day hear the words, "You have skin cancer". For the many who helped me get through my tough times, and the patients and doctors and researchers and advocates who came before me that got medicine and the melanoma community to where it was in 2012 when I was diagnosed, I have a mission to continue.
How do you stay positive when facing treatment and/or recurrence?
Scott: I stay positive by understanding my purpose and finding meaning in my journey. I stay positive realizing that others have it so much worse and that I have had and still have a great life. I stay positive because being negative just makes things worse for myself and everyone around me. Life is great when you stare death in the face.
April: I've found that online support groups are invaluable during my treatments. Friends and family can offer kind words and prayers, but talking regularly with others who have and are treating with the same topical chemotherapy is extremely comforting. They keep my spirits up and remind me that "this too shall pass."
Judy: I've accepted that I will most likely have new areas of skin cancer for the rest of my life. There are days that I don't feel upbeat about it, but for the most part, I keep my positive attitude. Skin cancer is something I have, but my life (thankfully) goes on. A positive attitude is a necessity for me – otherwise, there are times that dealing with recurrent skin cancer could be extremely discouraging.
Renee: When facing treatment, I do try to stay positive, because I know how important that is to having a good outcome, both physically and psychologically (remember that I'm a psychologist who has studied stress and coping in patients so I may be unique here, but we'll see). So here's what I do: I try to focus on what I can control, meaning the choice of surgeon, scheduling the surgery when I don't have to travel for work that week, follow the post-op routine, etc. Also, during the procedure, I also try to control what I can: I close my eyes during the surgery, I ask all my questions before they begin, and with my eyes closed, I visualize myself somewhere else, somewhere that makes me happy and relaxed. It works.
T.J.: Replace "doubt" with "taking it one step at a time". I have been fortunate that I have not faced a situation where there was no hope for treatment. Each time a roadblock presented itself, there was always SOMETHING we could do. It didn't always work, but there was always an option. I kept looking for options because they gave me the one truly precious thing I had – they gave me hope. Hope to see my children grow up and keep a Daddy in their life, and a husband in Jen's life, and be a brother, a son, an uncle, a friend.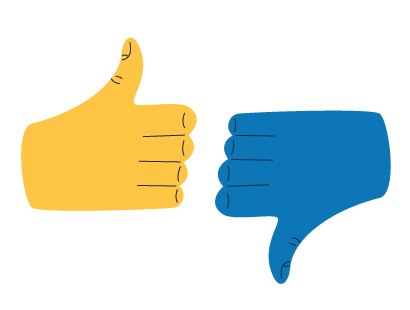 Community Poll
Have you taken our In America survey yet?