Rose's Journey with Immunotherapy and Hyperprogressive Disease
Editor's Note: This guest post was written by Dee Conway about her sister, Rose, who sadly passed at the age of 35 from hyperprogressive disease after a skin cancer diagnosis. Rose was diagnosed with melanoma and began immunotherapy treatment where she experienced extreme side effects. Dee's goal is to raise awareness around hyperprogressive disease.
On April 10, 2018, Rose was diagnosed with melanoma from a tan-colored and smaller than a pencil eraser mole on the back of her neck. The melanoma was in her lymph nodes and she had a neck dissection done removing 40 lymph nodes. Her diagnosis was 3B, nodular melanoma BRAF+. She received immunotherapy treatment (Opdivo) from June 22, 2018, to September 14, 2018, every other week for roughly 7 infusions.
Rose's immunotherapy treatment journey
In Rose's own words, her immunotherapy treatment was a "living hell for two months!" Rose experienced major fatigue, shortness of breath, extremely dry hands and feet, a low-grade fever on and off, hair thinning, headaches, nausea, and elevated liver enzymes.
In August, blood work was done once a week due to elevated liver enzymes. Rose was also experiencing shoulder pain that her doctor explained as rhomboid pain. She was supposed to get a PET scan but it was delayed due to inflammation, as this can cause the scan to be unclear. During this month, she had stopped exercising and running every day due to severe hip pain. In September, liver enzymes were elevated even more, though not dangerous. Muscle enzymes were also elevated and were explained as the culprit of what was causing the pain. Her doctor believed that Opdivo was attacking her muscles.
My sister started vomiting blood which her doctor explained to have been caused by the ibuprofen she had been taking. Her doctor gave her prescriptions for her stomachaches, nausea, and pain. Rose was not happy about having to take all of these medicines.
Stopping immunotherapy treatment
Rose's doctor warned her that treatment may need to be put on hold but would be re-evaluated after the next infusion. A week or so later, Roses ended up in the ER with extreme hip and shoulder pain. Her liver enzymes were through the roof and an x-ray was taken. It looked like she had developed arthritis, but an MRI was needed to confirm. She was released and sent home with new prescriptions.
Rose struggled on taking these new prescriptions due to them being metabolized by the liver. She had a follow-up with her doctor, who explained to her that her immune system is attacking her liver (autoimmune hepatitis), muscles, joints, and possibly the thyroid. They decided to stop the treatment since her liver was enlarged and was at a grade 3 reaction.
Devastating news
A week later at the second ER visit, we received devastating news. Rose was experiencing extreme bloating and pain in her abdomen. She had an ultrasound where a spot was found on her enlarged liver. A biopsy was performed and it was confirmed as melanoma. The scan showed that the disease had spread throughout her body, except for her brain.
On October 1, 2018, the oncologist informed Rose that there is a rare occurrence of immunotherapy causing the opposite effect where the cancer grows aggressively, called hyperprogressive disease.
Hyperprogressive disease from immunotherapy
At this point, Rose's liver was failing. She was showing signs of yellowing skin and eyes. The toxins from her liver were building up in her bloodstream and affecting her brain. I don't think she was able to comprehend what her doctor was telling her, but for me, I was in shock and couldn't believe what I was hearing.
The last option was BRAK and MEK Inhibitors, but it would take two days before the medicine could get to Rose, which was too long since she was rapidly declining. She started taking the inhibitors but her liver was already too damaged and failing.
On October 9, 2018, Rose passed away at the age of 35. This was only 6 months after her melanoma diagnosis, almost a month after they stopped her immunotherapy treatment, and a short time after her hyperprogressive disease diagnosis.
Rose's celebration of life
My niece, Victoria, said the following at Rose's Celebration of Life. Her words really depict how our family feels for Rose.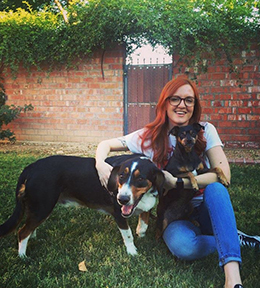 "Words will genuinely never do Rose justice. Nothing I can say could possibly compare to the warmth you feel when talking to her, the symphony of sound that comes out as her laugh, the beauty that radiates from her as she speaks of anything that she feels passionate about. I won't ever refer to Rose as was because she is always with me. Since birth, she has held my hand, and I always felt safe, understood, and unique when I was around her. What I realized as I grew up is just how incredible the relationship she's given me truly is. My aunts and uncles have all held our hands and hearts as close as they can, and my heart breaks that Rose is not physically with us any longer. Chris, you need to know that I have never seen Rose as happy as she is with you. She gave you her heart, her whole being, and you kept her safe. I can't imagine a better husband to her. I can't imagine her life would have been anywhere close to as happy as it was if it were not for you. You truly are the love of her life- and the puppies, of course. This family is your family. We love you, and we always will. Rose accomplished so much and overcame so many things, I have always looked at her with such extreme adoration. So confident in herself, and of course she should be because she's awesome. Nothing was ever too lame or too cool for Rose to talk about, just accepting of you as exactly as you are. She is encouraging and compassionate and so, so strong. She helped me find my way, and what better gift could anyone ask for? I would not be as environmentally conscious, aware of empathy, and constantly curious if it were not for her influence. And though I am so angry she was taken from us on earth, and I miss her so immensely no words will suffice. I find great comfort in knowing I will be able to pass along the same lessons in love and life that Rose passed onto me."
This article represents the opinions, thoughts, and experiences of the author; none of this content has been paid for by any advertiser. The SkinCancer.net team does not recommend or endorse any products or treatments discussed herein. Learn more about how we maintain editorial integrity
here
.

Community Poll
Have you entered our Skin Cancer Awareness Month Giveaway?