UV Safety Month - Ask the Advocates!
Since July is UV Safety Month in the U.S., we asked our wonderful team of SkinCancer.net contributors for their advice and tips of UV protection after skin cancer. Here's what they had to say!
UV protection after skin cancer
Liz
Throughout my School Nursing years, I always enjoyed celebrating all the health observances with age appropriate info and bulletin board displays.
Sun safety was always a favorite of mine, especially since we live in a beach community.
My daily wealth of health message in early summer was:
Slip, Slop, Slap, Slide!
Slip! on a shirt.
Slop! on sunscreen.
Slap! on a hat.
Slide! on sunglasses.
I would also suggest to take the "Shadow Test":
When your shadow is shorter than you - the sun is the strongest! Beware!
The above was based on the American Cancer Society recommendations.
T.J.
UV light can and does penetrate through clothing, so the darker and more dense the stitching, the more protection. Some clothes (particularly outdoor clothes and swimwear) come with a UV rating.
UV light reflects off of water. If you're at the beach or lake, on the boat, or at the pool, remember to apply sunscreen to your face even if you are wearing a hat.
Having a "base tan" may keep you from appearing sunburnt, but it does NOT protect against the deep-penetration UVA rays.
Some places commonly forgotten when putting on sunscreen: top of hands, ears and side/back of neck, scalp, back of legs (upper legs especially), tops of feet.
The best defense against UV light damage is to be smart about exposure. Seek or bring shade for outdoor activities lasting for a long time.
Having a routine for reapplying sunscreen (say, just before or after meals and snacks) will help make it a normal part of your outdoor activities.
There are MANY different brands and types of sunscreens. The question I get asked often is, "Which sunscreen is best?" To which I always reply, "The one you will use."
UV exposure is NOT just a summertime, coastal/beach sunny day concern. You can get significant UV exposure at high altitudes, skiing (particularly with the glare off snow), and in cloudy locations that do not block all the UV rays.
For days in the sun, dress like fishermen and landscapers. Long sleeve shirts. Wide-brimmed hats. Swimshirts if you will be out in the pool, lake or ocean for any extended period of time. Swim shorts, especially for young ladies.
Erin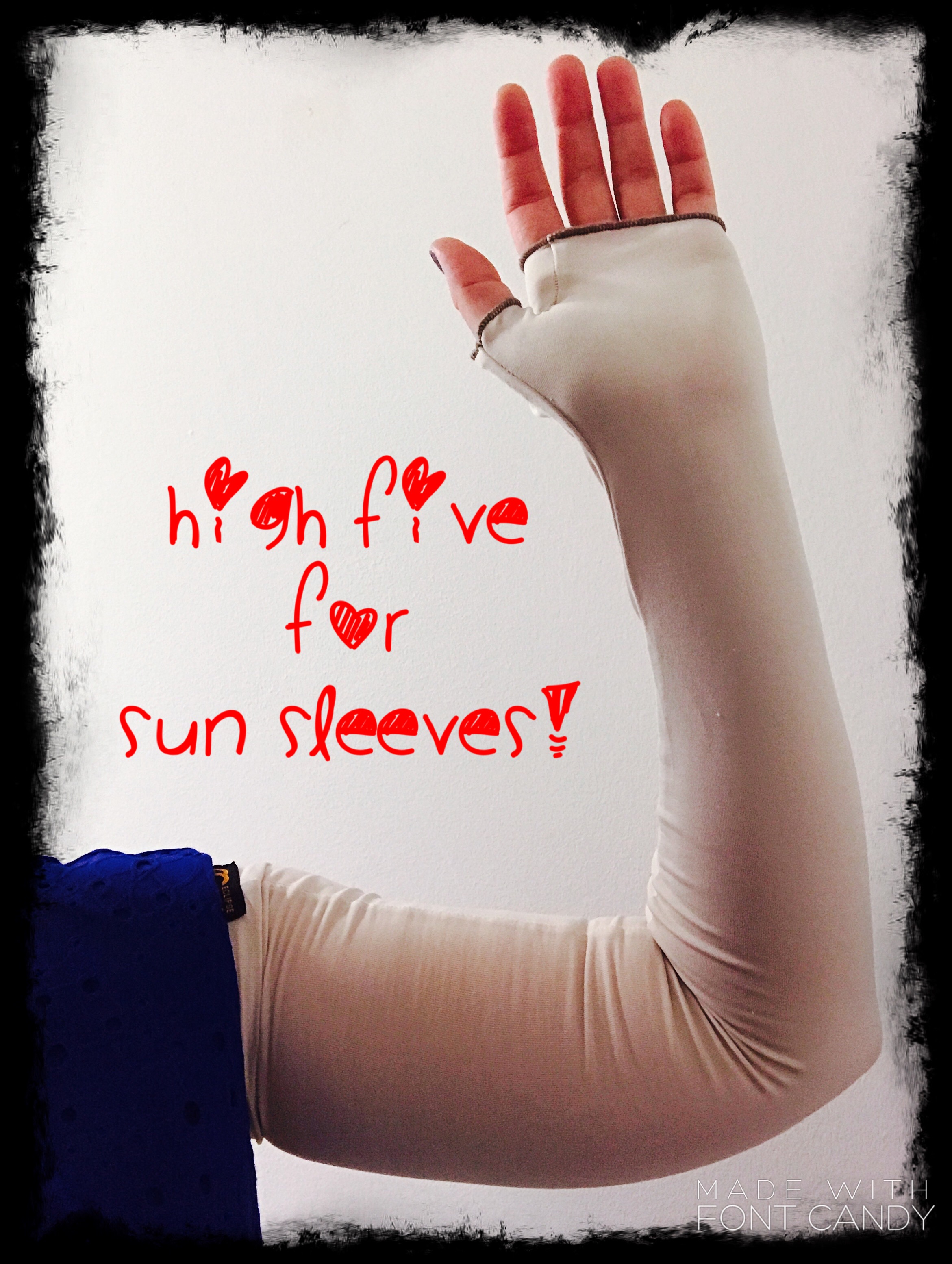 Sun safety tips - there are several things I always keep on hand while traveling to and from work: sun screen, sun hat, sun umbrella, and sun sleeves. This tip is for the umbrella and sleeves.
1. Sun sleeves - these are a big saver! I keep this in the car (well used to before I sold my car!) to help cover my arm next to the window while driving, I use them doing outdoor activities as an extra way of protecting the skin from UV after skin cancer. They are thin and can help cool you down when they get wet (wick away material). I've also found that sometimes for work I have to work outside - these are great to make sure I have extra coverage (we all know how easy it is to miss a spot!).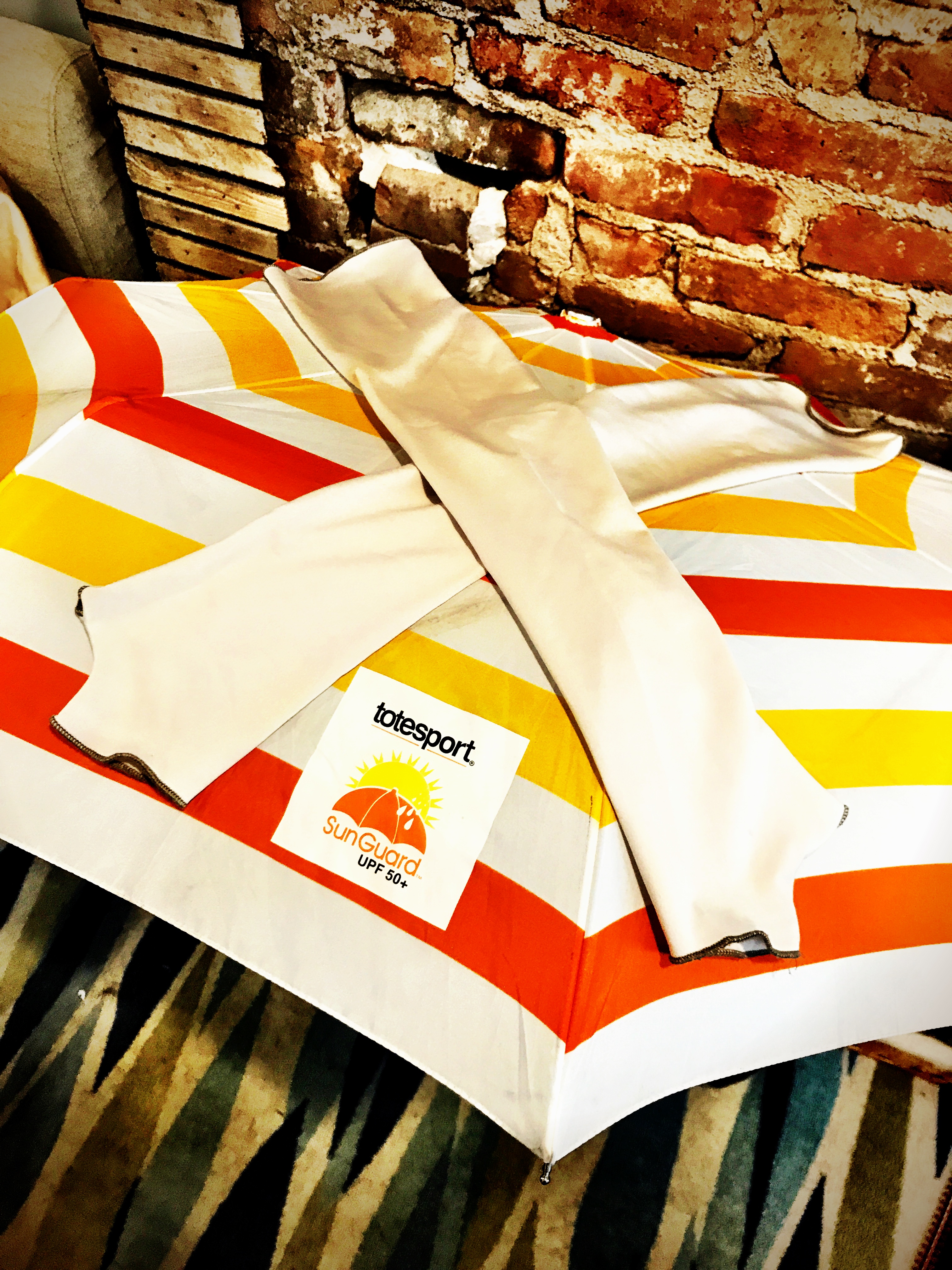 2. Sun Umbrella - I used to think this was a silly thing to carry around. I mean, what fool would open up an umbrella on a sunny day? Then I got diagnosed with Melanoma and it's not so silly anymore! These have been life savers on several occasions. If I've forgotten a hat and am walking home from work (welcome to commuting in the NYC area where we walk everywhere). I've even broken it out watching Nathan's Hot Dog eating contest on a 4th of July in Coney Island!

Community Poll
Have you entered our Skin Cancer Awareness Month Giveaway?