How I Discovered the Best Efudex Pain Soother
10 years ago, I had never heard of the chemotherapy cream Efudex that acts on early skin cancers. Nor did I know anything about the weeks of terrible pain and discomfort that is an inevitable part of this necessary but very uncomfortable treatment.
I suppose that I should have heard about Efudex because I live in Queensland, Australia - the epicenter of sun damage, skin cancers, and melanoma - because we are generally fair-skinned people living under a very harsh sun. I spent my early childhood in the Australian outback then moved to live by the beach. Sun, sun, and more sun. Also, my generation didn't have sunscreen or any advice to protect our skin from the sun.
My fortunate difference is that I've used highly nutritive skin products since I was around 30.
Nolene's Efudex experience
What changed with not knowing about Efudex was when I was talking to a woman, Nolene, on the phone about updating my website (my herbalist and naturopath husband and I have a plant extract skincare company) and at the end of the call, I said I'd like to send her one of our products because she'd been so helpful.
Nolene asked if we had anything that helped with skin cancer treatment. I didn't know what she meant but when she mentioned that her skin was red and burning I said I'd send her one of our nutritive day moisturizers that soothe and rejuvenate skin due to its particular blend of medicinal grade, fresh plant extracts, including chamomile, calendula and rose petals.
I posted the cream to Nolene that day. She phoned me the next day to say that she'd received the cream, had applied it straight away and suddenly all her pain and discomfort had disappeared. I was very pleased for her though I wasn't surprised because that particular cream had always been very soothing as well as being a lovely product to use.
Nolene arranged to come in and see us at our offices later that week. When a woman with a bright red face walked in the door I said, "I think I know who you are!" My husband later said to me that she looked as if she'd been through a bushfire.
Anyway, that was how I came to know about Efudex. Nolene checked with her skin doctor about using our cream and he gave it a thumbs up for ingredients that wouldn't interfere with the Efudex action.
Relief from Efudex pain
Later when Nolene finished the four week Efudex treatment I helped her choose products to help her skin recover in the first very sensitive weeks - a cleanser, serum and face oil were perfect. A month after that she added our nutritive gentle exfoliator and herbal toning spray as her skin could then benefit from the more stimulating products. Using these nutritive products worked to soothe inflammation, calm residual redness and help skin renewal and vitality.
Nolene had taken photos of her skin throughout her Efudex ordeal and one day she sent these to me along with a written account. She continued to use the products and her skin kept improving. She still tells people about the beautiful and nutritive products she'd discovered.
It was only four years ago though that I suddenly thought I should publish Nolene's story about Damask Rose Day Creme soothing her Efudex pain - so it could help others in the same situation. And it certainly has done that. It really seems that there is nothing else that works to soothe pain and discomfort during and after Efudex.
As for Nolene, 10 years later she still loves and uses many of our products and her skin looks beautiful. She's now in her late 60s and very happy about her skin, which is something that you don't really hear many people say.
Last time I saw Nolene, a few months ago, I told her that her skin looked so fantastic that I really should write a follow up article to advise others what to use to continue sun damage healing and skin rejuvenation after Efudex. And I must!
But for now I just hope my Efudex story will be of help to anyone who is thinking of undergoing this harsh treatment.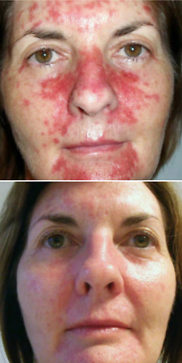 This article represents the opinions, thoughts, and experiences of the author; none of this content has been paid for by any advertiser. The SkinCancer.net team does not recommend or endorse any products or treatments discussed herein. Learn more about how we maintain editorial integrity
here
.

Community Poll
Do you sunscreen in the fall?