Captaining an Emotional Ship
Last updated: January 2022
Standing near midfield during pre-game warm-ups, I took in the sights and sounds of Liberty Bowl Memorial Stadium in Midtown Memphis. Soon the Memphis Tigers would take on a football conference rival: The Midshipmen of the Naval Academy.
Ship's Captain
The game's theme was "cancer awareness", and the Memphis Tigers hosted several pre-game events for cancer survivors and their loved ones. As I watched the players go through their drills, I thought about the importance of raising awareness, particularly cancer survival awareness, and what it meant to me as a melanoma survivor. Each player has a role, an assignment, a job to do. A football team cannot survive or win games if players don't perform their jobs, or miss their assignments. That night, I had a job to do; represent cancer survivors, their families, and loved ones, and remember those who were not so fortunate. I would captain an emotional ship through both calm and turbulent waters.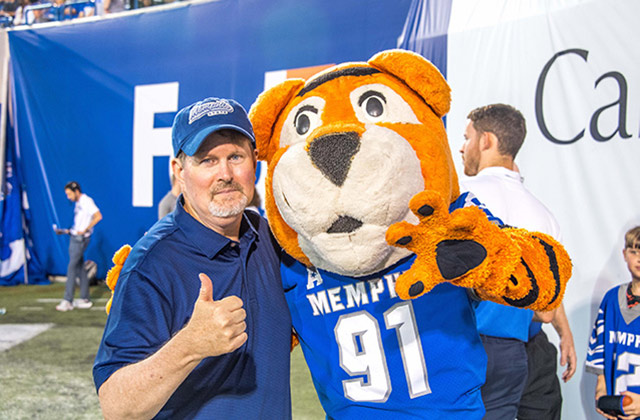 Storm of emotions
As a stage IV melanoma patient, I experience emotional stresses and strains each day. Cancer patients are typically referred to as fighters, or warriors, or survivors. "Survivor" best describes me and how I deal with daily stresses and strains. Like many of you, my emotions bob up and down like a fishing boat floating in the Gulf of Mexico. At other times, my emotions pitch back and forth, like being in the midst of a terrible storm, with waves of doubt and worry washing over the deck—a constant battle to keep that emotional ship upright and afloat.
Eye of the storm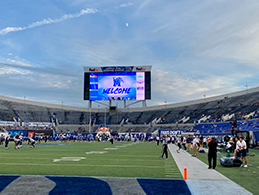 Within this storm, however, are moments of calm, and maybe even a little serenity. My local cancer center nominated me to be a Captain of the Game for the night's matchup. This meant that I would be on the field prior to kickoff and walk out with the players to midfield for the coin toss. I was nervous and a little stressed beforehand, but I also felt at peace, standing on the sidelines, knowing what an honor this assignment would be and what this moment, under the stadium lights, meant to my family and friends, and, particularly, to my oncology team. Because of their love and support, I'm doing my job, representing other cancer survivors and raising awareness. A reminder to everyone watching that hope is a key ingredient in fighting this deadly disease. Captaining this emotional ship made me both proud and humble, and reignited in me the desire to serve others by helping them navigate the troubled waters of a melanoma diagnosis.
Surviving the storm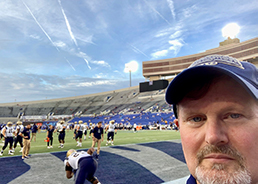 Survival begins at diagnosis; the moment you learn you have a dreadful disease. In 2013, I learned melanoma had spread to my lungs: A stage IV diagnosis. Eight years later, I continue to navigate both troubled waters and calm seas. Melanoma spread, again, in 2020. But with new procedures and new treatments, I've weathered another storm. I am a survivor.
Captain of my journey
I've dealt with skin cancer, off and on, since 1995, when my first in situ melanoma was successfully removed. Since that time, I have had nine more melanomas removed, along with a basal cell carcinoma. In addition, my treatment for stage IV melanoma continues to this day. Dedicating myself to helping others with melanoma has made me the captain of my own journey. Nationally recognized for my advocacy work, I want to do everything I can to prevent skin cancers, especially melanoma, and to help develop new and ground-breaking treatments.
This is me
I will not let any rough seas or storm clouds on the horizon prevent me from completing my work. Being there for others is my job, my passion, and my mission. Surviving allows me to do my job: Captain an emotional ship for myself and others.
What does being a survivor mean to you? Share with us in the comments
This article represents the opinions, thoughts, and experiences of the author; none of this content has been paid for by any advertiser. The SkinCancer.net team does not recommend or endorse any products or treatments discussed herein. Learn more about how we maintain editorial integrity
here
.

Community Poll
Do you sunscreen in the fall?