CBD Oil (The Legal Kind) and Skin Cancer
Last updated: November 2021
The state where I live, Indiana, isn't known for being particularly progressive. CBD oil was a hot topic in legislation for a long time before our governor signed a bill in March 2018 making it legal to possess CBD oil, as long as it contained 0.3 percent THC or less. For some people, this law was extremely overdue to be passed.
CBD oil for skin cancer
Why the interest in getting a law passed making it legal to possess CBD oil? CBD oil has been claimed as being beneficial in helping with chronic pain, multiple sclerosis, epilepsy, anxiety and depression, schizophrenia, and skin cancer. Yes, skin cancer!
CBD oil studies have shown that it can encourage abnormal cell death. It can also slow the growth and spread of cancer. Would it help me? I've had skin cancer for over 20 years. I know the apprehension of discovering a new, suspicious area on my skin. I know the frustration of yet another skin check at the dermatologist's office where I have an area that has to be biopsied. So when it became legal to have non-THC CBD oil, I thought I would give it a try.
Experimenting with CBD oil
The first thing I learned is that there is a difference in CBD oils. My first purchase was from a healthy foods store. The store worker told me what she would recommend for me, and suggested that I should take it once a day. The label on the bottle indicated it was flavorless, but I have to tell you that I really struggled with ingesting that CBD oil. It wasn't exactly flavorless; it tasted like I was drinking dirt. And it was thick.
After four weeks of once-daily ingestion, I couldn't really tell a difference in how I felt from before I took it, but I noticed that my skin was looking clearer. However, trying to take the CBD oil was still causing difficulties, and I was ready to give up. It was that disgusting. I decided to instead put it directly on a couple of small areas of actinic keratosis on my face. I applied it at night before bed and covered with a bandage. Four nights later, I noticed that the areas were shrinking! This was encouraging.
Finding better quality CBD
Around that time, a CBD oil store opened near my home. I stopped by one day after work and asked if all CBD oils were as icky as the one I was taking. The salesperson told me what they sold was completely different. It was available in flavors, and I chose peppermint.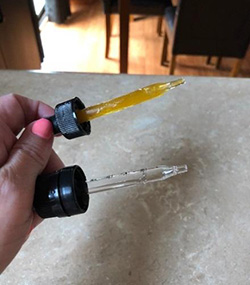 When I got home and tried it, I was amazed at the difference. What I purchased in the CBD oil store was completely clear, slightly flavored with peppermint (although no flavoring was necessary for me to be able to take it without gagging), and it didn't have the consistency of motor oil. (You can see the difference in the photo below.) Lesson learned - buy good quality CBD oil, which makes it much easier to take.
Skin check time!
When it was time for my next dermatologist's appointment for a skin check, I had been taking CBD oil for a little over two months. I told my dermatologist that I was taking it, and she said that it is an anti-inflammatory so it definitely couldn't hurt to take it. And for the first time in many appointments, I had nothing that needed biopsied or was causing concern.
Coincidence? Possibly. CBD oil use? Possibly. It's still early on, and even some of the information I read stated that more studies are needed on the use of CBD oil for skin cancer treatment, but so far it sounds promising!
This article represents the opinions, thoughts, and experiences of the author; none of this content has been paid for by any advertiser. The SkinCancer.net team does not recommend or endorse any products or treatments discussed herein. Learn more about how we maintain editorial integrity
here
.

Community Poll
Do you sunscreen in the fall?