Community Member Spotlight: Meet Dee Giordano
We conducted an interview with Facebook community member, Dee Giordano. Dee was surprisingly diagnosed with malignant melanoma after several doctors did not think it was skin cancer. She talks about her skin cancer diagnosis journey, her past tanning, and offers advice to others living with skin cancer. Let's meet Dee!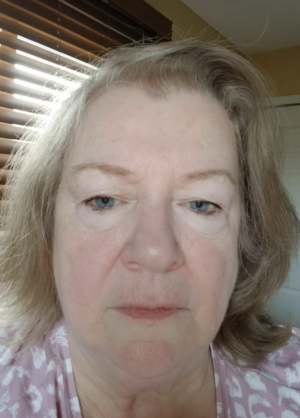 Our interview with Dee Giordano
When and how were you diagnosed with skin cancer?
It all began with a weird spot on my arm about 10 years ago. I initially went to a dermatologist in the beginning who diagnosed it as an inflamed age spot. I ignored it after that, assuming it was nothing to worry about. My cousin Sandy kept urging me to get it checked again so about 4 years ago I went to see a different dermatologist. She said it was a precancer and burned it off. It came right back shortly after the procedure healed. My family doctor asked if this dermatologist did a biopsy and I said no. He kept urging me to go for a punch biopsy.
I went to a third dermatologist in January of 2021 who actually did the biopsy. It came back as malignant melanoma. It was surgically removed at the end of January. Being dismissed so many times I was shocked at the diagnosis. I have no idea how many years I actually walked around unknowingly with cancer.
My next skin check visit was on April 29th. At that time another lesion showed up on my forearm right on top of the last incision. The biopsy from that test came back as squamous cell cancer. I had a MOHS procedure to remove that one. She also had burned off 5 precancers from my face. There are other strange-looking spots coming up around the melanoma site that the doctor is going to test on my next visit.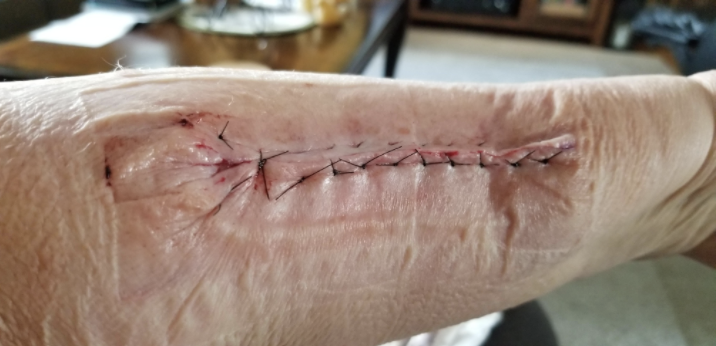 How did decisions during your childhood affect you today?
As a child, I was teased constantly about being 'white white" and called Casper the ghost. I was part of the baby oil and iodine generation and wanted so desperately to be tanned and fit in. I felt so ugly and hated summer because I couldn't tan, no matter how hard I tried. I can't even count the number of blistering sunburns I had as a teenager trying to get that elusive bronzed appearance. Even today people will put their arm up next to mine and tell me how pale I am or compare how tanned they are compared to me. I'm am paying the price now.
How did your friends and family react when you were diagnosed? What misconceptions did they have?
I've had some friends tell me, "Squamous cell cancer is nothing, melanoma is the bad one." Thank God it's gone. I am thankful it's gone but what they don't understand is not knowing if it's spread or will show up again.
What adjustments have you made since being diagnosed with skin cancer?
I have since bought sun hats to protect my head and face from the sun. I wear an SPF 70 on my face. All exposed areas of my skin are covered with sunscreen when I'm outdoors. I avoid the sun between 10AM and 4PM. I see my dermatologist now every 3 months for a checkup. My life has changed so much. Picnics and outings all depend on if there is shade and the time of day.
What advice would you give to others?
My advice would be for everyone to love themselves enough to protect their skin from the sun at all costs. Don't ever think this can't happen to you. As for me, I've learned to ignore the rude remarks and looks of others. If my very pale skin offends them, it's now their problem and not mine.
This article represents the opinions, thoughts, and experiences of the author; none of this content has been paid for by any advertiser. The SkinCancer.net team does not recommend or endorse any products or treatments discussed herein. Learn more about how we maintain editorial integrity
here
.

Community Poll
Do you sunscreen in the fall?